http://www.nomusicday.com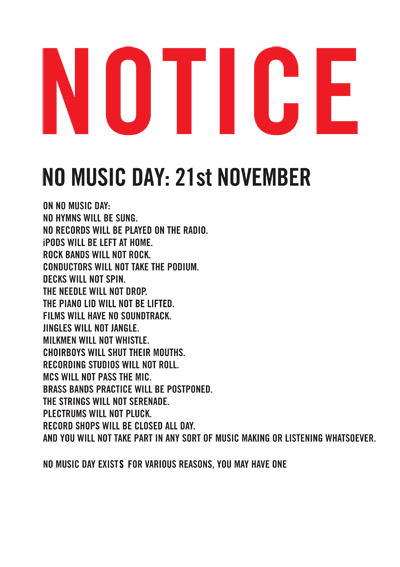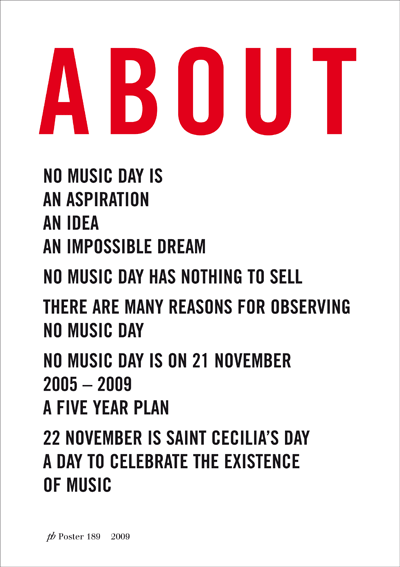 Initiated by Bill Drummond of The KLF. A short excerpt from an interview in the current "Profil" Magazine (Freely translated from german - and probably translated by the magazine from an originally english interview - so don't hang me if it's not exactly what he said)
Profil: How did the Idea for the "No Music Day" arise?
Drummond: I still remember the day I got my first iPod wery well. I was thrilled: Finally I could listen to all the songs I allways wanted to hear, immediatly and any time. But after a few days my enthusiasm was gone. Music suddenly had no meaning anymore. It had become too much.

Profil: Thanks to cellphone music-flatrates, iPods and free downloads we are surrounded by more music than any generation before. Is it not good for pop, having more channels and being more present in everyday life?
Drummond: Yes, of course. I am in no way against the iPod. It changes our relationship with music and I like changes. But music will not mean the same for a 16-year old today, as it used to mean to me.

Profil: "No Music Day" arose from this is the thought?
Drummond: I imagined becoming a monk, a medieval hermit, who after months without music goes to the next town, into a cathedral and hears a choir. I imagined the power of this music and realised that I had never experienced this myself. I started thinking: Could I live for a year without music? Hardly. A Month? Also not. A Week? No. Good then one Day.
...