---
where can i download the programm to apply this to my ableton live piano roll ?
---
Tagor wrote: where can i download the programm to apply this to my ableton live piano roll ?
Which program ?
---
the ableton device or vst, hack, m4l-patch... whatever

look:
reaktor can do it
http://www.chilltribe.com/microtune.gif
keflar can do it
http://kelfar.net/prod06.htm
Max Magic Microtuner for Mac can do it
Reason can do it
https://www.youtube.com/watch?v=oi2ADqr7BxY
bitwig do it (you can edit per-note expression and micro-tune pitches...)
Kontakt can do it abd several VST-Plugins from Rob Papen do it also
inbetween i paid 1000 € into Live development over the years AND
I STILL MISS KNOBS ON MY PIANO_ROLL TO TUNE THE TONE
LIVE 1-9 can`t do it :/ WHY ?
or did i miss some hack in the options.txt ???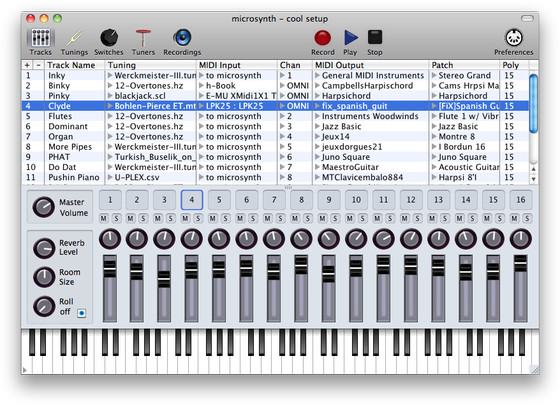 ---
Posts: 30
Joined: Wed Feb 23, 2011 7:01 pm
Is this why?
"AL merges all midi channels in track sends, effect outputs and max4Live outputs into channel 1, and filters out all sysex messages and all polyphonic aftertouch messages. Midi effects, except for built-in midi effects and max4live midi effects, must be put in the audio effects section of the track. Receiving midi output from an effect requires creating an additional track and setting its input to that effect."
http://xenharmonic.wikispaces.com/DAWs
---
an editable pianoroll-view and the whole thing would have been eaten for ever...
each key with a little slider/knob..custom-scales babawhoo!

but since push dont allow nativly to have customizable whole-tone-scales and there is now way to tell it which scale for which track is predicted.. its a bitter pill
and best you stick to instruments, which claim to do .tun or .scl

like absynth, omnisphere, ethno, reaktor (?), mostly all rob papens und the rest i`ve forgotten
but be warned, sometimes it don`t sound exactly how it is meant, special some scales are
not very versatile, so it may match only 7-13 keys and the rest will be very odd, what makes
arpeggios awfull f.E..
---
Posts: 30
Joined: Wed Feb 23, 2011 7:01 pm
---
Posts: 25
Joined: Sun May 31, 2015 7:22 am
---