I know 10 years ableton user and i,m stuck with what i think should be bread and butter setup work
ok
i have a new firewire alesis multimix desk 16 audio in 2 out - cool
ok
New drivers installed all working
ok
Record external audio tracks from synths and drum machines - we have a gap at the begining of the recording - a track delay.
So i go into preferences and adjust things till they look like this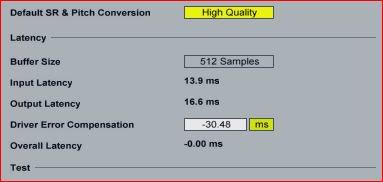 so as far as i can remember previously when i have managed to get overall latency to zero in the audio prefernces box any latency issues are resolved.
What am i missing hear as this isnt solving the problem.
best
J