Many thanks everyone for your suggestions - and un-suggestions!!

Here's what I ended up with: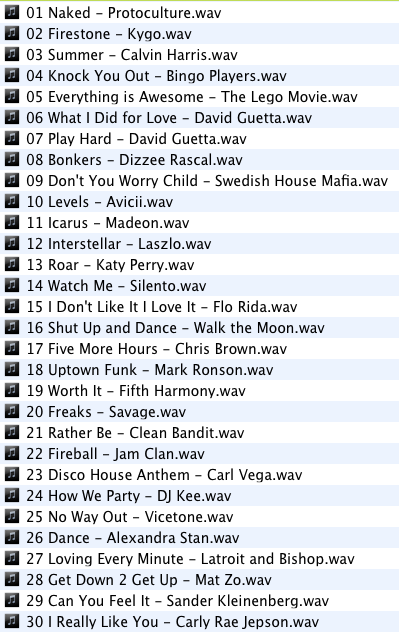 Now not all of these are cheesy by any stretch - "Naked" is a beaut track, it's emotion actually feels earned. Thanks Re:Dream!

Some tracks in there I absolutely love like "Bonkers" and "Icarus". Also special shout-outs must go to "Everything is Awesome" and "Freaks" - two tracks that absolutely take the piss out of their genre while simultaneously COMPLETELY WORKING within that genre. That is such an incredibly hard thing pull off.
Now, grumpy old man time...
WHEN THE FUCK DID DANCE MUSIC GET TAKEN OVER BY THE GIANT ROBOTIC QUACKING DUCKS???
I've
seen
David Guetta close Sziget festival in Hungary with his 6 different types of confetti cannon, plus selected flame-throwers, co2, lasers, lighting and video. I get how that works - it was fucking amazing. I
know
what a super-saw is, and why it's supremely effective. I get how some frequencies can work on a purely physical/mechanical level. I can understand the binary process of sometimes just hitting people with fucking
maths
. BUT...
WHAT THE FUCK IS IT WITH THESE HARD-SYNC TYPE MID-RANGE QUACKING HOOKLINE NOISES???



How did this become a "thing"? Is this the sound that activates something in whatever-is-passing-off-for-ecstacy these days? Or is this simply the noise that drunk white people find exciting?



Please discuss.
Please help an old man understand!