Hi,
I have exactly the same problem than this:
Zyko1

wrote:

↑

Fri Jul 07, 2017 7:41 am

MIDI goes out from Ableton MIDI-track through USB-cable to a MOTU Midiexpress 128, from there throgh midi-cable to a synthesizer. Audio goes out from synthesizer through audiocable into FireFace UCX, from there through USB into Ableton audiotrack. All audio-clips I record that way are 20-30ms OFF the grid! But with my audio-buffer-settings it should be only around 7-8ms!

Why is that and how to improve it?

It seems no help if I play with the track-delay-settings (just below every volume-fader), I cannot hear any audible difference when changing these settings.
For me it's:
Ableton MIDI track ---> MOTU 828 mk3 ---MIDI---> synth ---audio---> MOTU 828 mk3 --> Ableton
Every clip always has a 30 ms silence beginning / latency. So it's all the time off the grid, and I have to manually recrop every clip.
I've tried everything:
Options > Reduced latency when monitoring (should not change anything since monitoring is off)
Options > Delay compensation
play with track delays (little setting below each fader), both positive or negative values ; I tried the same for Master track
Preferences > Audio > Driver Error compensation (I tried both +30 and -30ms, +60, -60ms, etc.)
Preferences > MIDI > Output > little arrow on the Output device > MIDI clock sync delay > +30 or -30 ms
I think I've tried everything but it's always the same thing: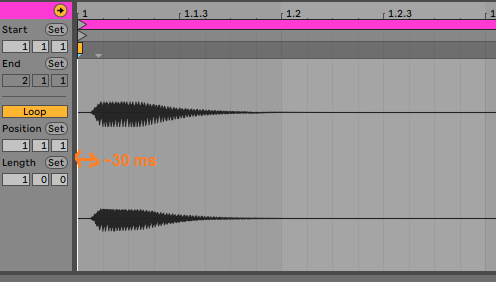 Of course I'm on ASIO with lowest latency, and the synth envelope has a very short attack, etc.
It's the same with every synth / sampler / any external instrument etc.
Any idea?