midiStroke allows you to trigger unlimited ASCII keyboard messages with a single noteOn message. It's very much in beta now, but I don't think it should take more than a week to "finish" it... thought I would let people try it out now in case there are some genius ideas for it.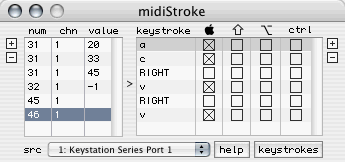 In this screenshot, we see that note 45 on channel one triggers a long sequence involving copying whatever is currently selected, and then moving right and pasting it 3 times. This would allow you instantly copy a selected clip to three adjacent tracks in Live so that you could create a variety of manipulations
Read more and download here:
http://www.charlie-roberts.com/midiStroke
oh, also, I'll be adding this functionality into controlAid once I finish polishing it.