Here is a new freeware we are happy to share with all Live users (on windows platforms):
Blue Cat's FreqAnalyst
is a freeware real time spectrum analyzer with extremely smooth response and complete control over the audio spectrum analysis. Its customizable user interface and unique transparency feature let you make it totally integrated in your favorite audio application: check the audio spectrum and see behind it!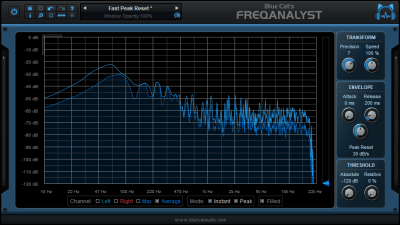 It is available as a single download or within the
Freeware Pack bundle
, together with all Blue Cat Audio
freeware products
.
Features:
- Mono and stereo real time spectrum analyzer.
- Total control over the audio to frequencies tranformation.
- Smart interpolation algorithm for extreme display smoothness.
- Zoomable display.
- The user interface can be made transparent.
- Custom absolute and relative threshold.
- Skinnable user interface.
- DirectX and VST plug-in formats support on Windows platforms
- Full automation and real time MIDI control support.
Product & Bundle links:
http://www.bluecataudio.com/Products/Pr ... eqAnalyst/
http://www.bluecataudio.com/Products/Bu ... uginsPack/
Enjoy!
A Pro version with even more features (such as frequency information extraction to be reused as MIDI CC for other effects control, see
our existing audio analysis tools
) is expected for next month.
Screenshot with transparency in Live: