So I bought a cable snake for the TI today to take advantage of all the 6 analog outs, and i'm wondering if there's a way to send MIDI to the TI and get the audio from the analog outs into Live with the External Instrument plugin.
It seems it will only allow me to stream audio from the TI through the 3/4 USB port (the Audio From box is greyed out with no more options).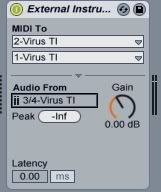 Which works fine I guess, but not what i want. Creating separate MIDI and Audio tracks for each part of the TI works. But I was sort of hoping i could take better advantage of the External Instrument plugin to avoid clutter.
Am i doing something wrong or is it a limitation within the TI OS/Live?