Hi David Abravanel
Thanks for getting back to me.
David Abravanel wrote:

The visibility of the GUI of a plug-in has nothing to do with whether automation is recorded in Arrangement View. A few questions:

I have to disagree,
see how the fader has not moved,
when the gui is not visible.
it snaps back after the GUI is visible, when i move the controller.
although ableton has not changed, the fader and sound have changed on the actual plugin.
same on all plugins i have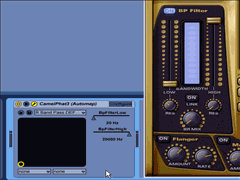 David Abravanel wrote:

1) Do you have "back to Arrangement" selected before recording?

this is not selected, the problem happens even before recording.
David Abravanel wrote:

2) Have you tried connection the Nocturn to Ableton without using Automap, and without making it a control surface?

Nocturn does not work without Automap, but if you mean useing MIDI mode on the nocturn. Which slightly defeats the idea of automap. yes all normal midi controllers i have work wit or without the GUI showing.
David Abravanel wrote:


3) What version of Automap are you using?

Automap PRO latest version
David Abravanel wrote:


4) Do you have Configure selected for the filter while you're recording? Configure simply lets you make the Ableton gui with the controls that you'd like to have available. You should turn off the "Configure" button when you're done mapping, and before recording automation.
yes configure has been configured and turned off
Any Ideas?