Updated our popular SMART Device...
With 8 banks of Smart Graphs, and 8 Smart graphs per bank this device gives an unprecedented amount of control over parameters in your Ableton set...
The percentage box sets the zoom control of the individual floating windows, these float on top of Ableton and allow you to draw Smart graphs whilst monitoring their impact on the parameters they control at the same time...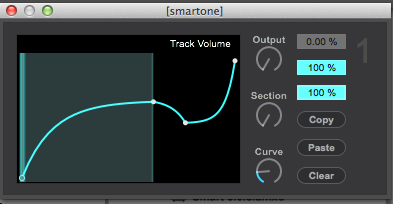 You can set a break point by clicking, remove it by Shift clicking...
Move to highlight between two breakpoints with the section control, then move the Curve control to bend the line between into a nice curve....
Want to map the same graph to multiple parameters then use the copy and paste functions...
And you can even have fine control with the quantization option, set it at 100% to have the breakpoints set to whole values, reduce it to have finer control....
The top two percentage boxes set the range of the parameter control just like the Midi Mapping capability within Ableton when you set ranges...
This device forms part of the modular series at
www.isotonikstudios.com
and is available for download for all subscribers now!!
All future feature requests happily received, manual and video coming soon!
www.facebook.com/IsotonikStudios
Cheers
D