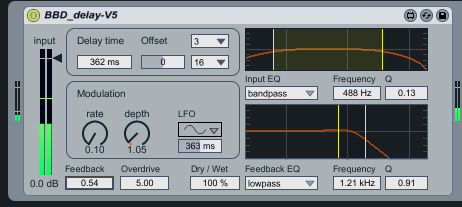 watch Youtube Demo
A delay device with selectable filter on input, filter, overdrive and LFO modulation on feedback and limiter on output. Delay time can be tempo synced to Live.
The offset slider is handy when using 2 (stereo) instances in an effects rack with different delay times. Mapping both offsets to a macro allows you to change both tempos and keep the relative time difference to each other. Great for stereo Dub feedback effects!
It can resemble a lo-fi BBD delay and does quite well at extreme feedback effects. The end of the youtube clip demonstrates extreme effects.
Based on
OCD43 bij Willum070
at max4live.com
CC Atribution Non Commercial
Have fun, and let me know if you improve on anything.
download BBD delay 0.5