THE CONCEPT
We all know that Live allows you to map keyboard characters to pretty much any function within the DAW - REC, PLAY, STOP etc on each track; turning FX on and off; triggering a fade-out, playing MIDI instruments etc (other DAWs may do the same). I came across this webpage:
http://createdigitalmusic.com/2007/08/0 ... g-required
Where a guy removed most of the keys on a USB keyboard, leaving a few remaining which he could control with his feet, for hands-free looping control.
I thought this was pretty cool (and a very cheap alternative compared with a commercial pedalboard which are upward of £130) so copied his idea. However a USB keyboard is kinda limited:
- keys are too small and low-profile, meaning it is hard to find the right one with your feet
- keyboard is too lightweight and flat, meaning it skates around on the floor when I am searching for the right key, and it is hard to access the rear row of keys without hitting the front row
- not enough room for as many switches as I wanted (could only fit 2 rows of 6 switches if I used a sensible key spacing)
I thought the concept could be MUCH improved by taking the buttons out of the keyboard form factor and into a more robust case. The image/form factor I had in mind was along these lines:
PROTOTYPE
The important component is the PCB controller card from inside any old USB keyboard:
In a standard configuration (inside a keyboard!), characters are output to your PC by shorting terminals on one side of the card to terminals on the other. This is normally achieved when a key on the keyboard is pressed against a membrane, allowing conductive traces on 2 sheets of plastic to be briefly contacted together.
I want to take that concept and use proper momentary footswitches to achive the same result.
After some experimentation I cobbled something together from a cheap plastic parts organiser and a few switches:
Which certainly proved the concept, but was not ideal (not enough switches, wrong form-factor etc).
I figured I'd do a proper job, and it turned out pretty well. So... here's a complete guide to building your own!
MARK II
Just so you know where I'm headed, here's the finished product:
Materials required:
- sheet of 6mm MDF
- 15mm square-section stripwood
- momentary switches (I used 21, but you could make a very functional device with 8-12)
- fine gauge wire (solid core is easier to work with)
- old USB keyboard
- salvaged ribbon cable (I used an old PC IDE cable)
- terminal block
- LED mount grommit
- glue, screws and nails/tacks
- 12mm washers
Total cost was around £40, but I have PLENTY of MDF/glue/nails/screws etc left over.
BASE
I wanted enough space for LOTS of switches, and plenty of room between them so I can locate them with my feet. I used Pythagoras' Theorem and trigonometry (for the first time since high school...) to work out the dimensions of my base, lid, font, back and side panels... here are my rough plans:
I have gone for a width of 560mm because my POD XT Live is 520mm wide, meaning I can add 'feet' to raise my DIY controller above my POD so they share the same footprint, i.e:
I have gone for a pitch of 30 deg so make it easy to access buttons at the back without hitting the ones in front.
The MDF sheets were cut to size and glued/tacked together. 15mm bead was used on the internal corners to add strength. I covered the outside of the box and lid with wood-effect Fablon (self-adhesive vinyl wrap found in DIY stores):
THE LID
As seen in the above picture, I drilled 21 holes and attached the footswitches. I reversed it and wired them together in a grid: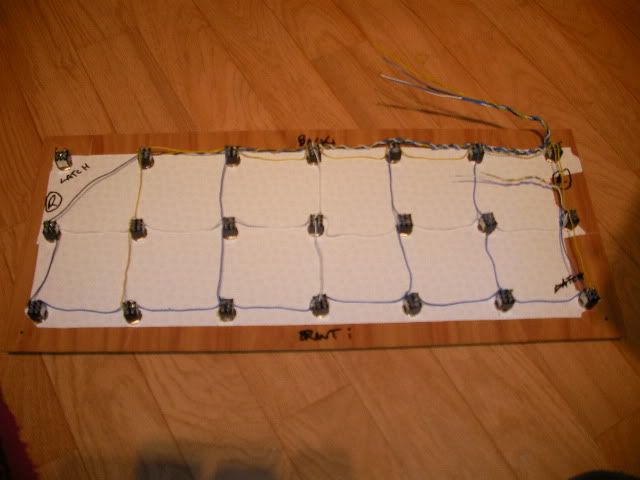 This left me with a bundle of 3 wires (one running along each row, commoning 1 side of each switch in the row together), and a bundle of 7 wires (one running down each column, commoning together the OTHER side of each switch in that column).
NEXT - the PCB etc...