I made many attempts and ask why the groove quantise in Live works like it does. It works different than in most other DAWs and I never got an answer that really explained the behaviour.
viewtopic.php?f=1&t=131073&hilit=groove
What Live does:
Live does not only quantise the note start, it does automatically quantise the note end too. That changes the note length.
Other DAWS quantise only the note start and the end only optional.
The problem:
That length change may be wanted on some cases, but in many cases I just want to align the note start. And the note length change can be quite big.
- MPC style sample playing problem: Changing the note length results in a longer played sample and therefore in a different release from the sample (a silly example - a voice sample is not " oh I love live9" anymore, but "oh I love live9 and", because the sample is played longer).
- Bass line problem: I also had cases where the adjustment from the note length from a played bass line just don't sound right due to the change from the note length. I did just want to (micro) align the note start perfectly with another instrument/drum track.
Pictures...:
I can explain exactly what's wrong now. Cubase is one DAW that does the basic things right here imho.
- It just moves the whole notes to the groove position (see
2
)
- But you can quantise the note end too (see
3
).
- That seems to be exactly the default behaviour from Live (see
4
), but you can't archive
2
with Live.
When you look at this SOS article at the end (picture below Final Thoughts), you will see that the do exactly what I did in
2
.
http://www.soundonsound.com/sos/jul12/a ... e-0712.htm
I would really like more control over the groove. This is a wish I have since Groove was introduced in Live8.
The possibilities I wish:
- quantise "note start" and move the "note end" the same amount. in a nut shell: just move the whole note like in
2
- an option to quantise the "note end" too (like the current implementation in Live, like in
3
/
4
- maybe also a only "note end" quantise function (see below). In Studio one you can also have a seperate value (0-100%) for that.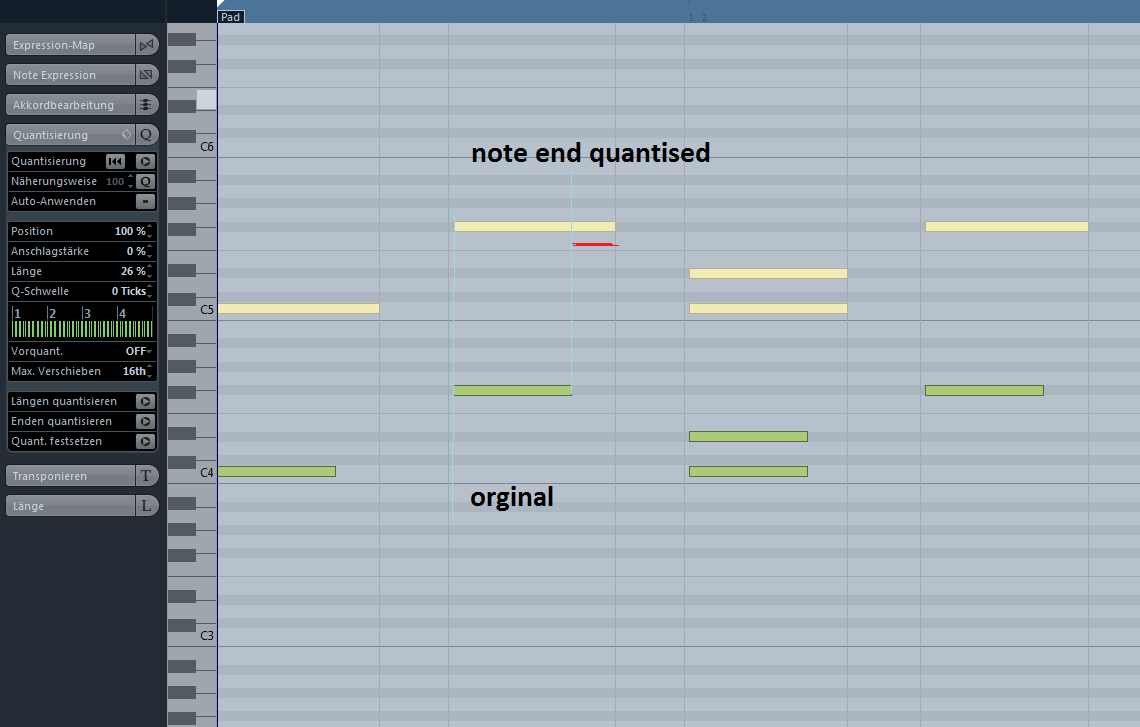 Also really nice to have:
- a grid that shows the Groove (like in the first picture, look at the Groove and the grid , Cubase does this)
-
when you change the quantise amount, the note should be moved also visually in real-time according to the current Groove amount (Cubase and many other DAWs does it)

- there are more interesting options in Reaper or other DAWs, like a "note length" parameter etc. - but the first three are options are probably the most important ones.