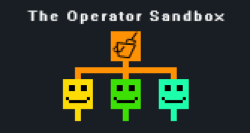 The Covert Operators present a powerful new music production package for the popular "Operator" synthesizer in Ableton Live: "The Operator Sandbox." This sizable live pack is the culmination of three FM-obsessed sound designers working to create something that goes way beyond a sample library.
On the surface:
The Operator Sandbox is a massive music production and sound design toolkit. It contains a variety of Operator-based sounds and patterns generally suitable for Techno/House, but with very little effort they can suit any genre.
Behind the scenes:
All of the Operator patches, effects chains, note patterns, and modulation envelopes are delivered in the flexible Live Clip format. As a result, these clips can have their sequences and device parameters changed, further automated, and abused to suit your creative needs!
Here's a short rundown of what you'll get with this package:
- 49 Operator instruments, carefully built to provide tons of flexibility and inspiration.
- 300 meticulously crafted Live Clips which can be customized down to the last detail.

- The ability to add more oscillators, effects, and a host of other sound-generating parameters for maximum flexibility thanks to the Live Clip format.

- A huge set of fully editable modulation envelopes and all macro knobs mapped and color-coded for clear and inspiring visual feedback.
- The opportunity to reverse-engineer every aspect of how the instruments were created from the ground up, providing a powerful learning tool in addition to ready-made sounds.
The bottom line is that all of this power is easy to use: Simply drag the desired Live Clip into Ableton Live and the correct device will automatically be created and ready to modify and/or use!
Be sure to check out our audio demo section on our site for a small sampling of this huge collection.
Visit our website